You've worked hard to build digital teaching skills. Now, make it official.

Cohorts start in June, July, and January
Do you…
want credibility and credentials to elevate your status as an educator?
use Google Drive, Calendar, Classroom, or Chromebooks with your students?
see colleagues in meetings or social media say "I'm Google Certified" – and want to say the same?
If you answered yes to any of these questions, then earning your Google Certification is the right decision.
"I'm a more confident teacher today than in January after Google Certification Academy. The strategies John taught fit seamlessly with my class instruction."
David Mouton, High School Science Teacher
Becoming a Google Certified Educator is a significant boost to your career. But…it's not easy to do.
Whether you've been teaching with Google for years, or it's all brand new to you, you might find yourself asking some common questions.
Which certification should I take?
What exactly do I need to learn?
Is any of this free online material useful?
It's a complex process
to navigate alone.
Fortunately, the Google Certification Academy (GCA) gives you everything you need to pass the Google Certified Educator L1 or L2 exam.
Build your skills through detailed training

Each academy features focused instruction to help
you pass the L1 and L2 certification exam.
Earn continuing education credit

Up to 11 hours of continuing education
credit is available in most states
Learn from the best Google trainer

Work directly with John Sowash, one of the original
Google Certified Trainers and founder of the GCA.
Get practical tech tips – not just for teachers

Technology integration specialists, technology directors, and administrators
can all benefit from the training provided at the GCA.
Go beyond the basics covered in boring PD. The GCA is for
intermediate / advanced users or anyone ready for a challenge!
Find your path to Google Certified Trainer
"The Google Certification Academy was extremely informative and hands-on. It allowed all of our teachers and administrators to successfully pass Levels I & II of the Google Certification Exams."
Kristin M. Flynn, Executive Director, Michigan Virtual University
"I enjoyed all aspects of this class. After taking a long break in my teaching career to be a stay-at-home mom for 5 years, this class introduced me to everything in the Google Workspace. I learned enough in each aspect of Google to pass the Level 1 Google Cert Educator test on the first try!" – Molly Brankin, Clarendon Hills, IL
"I truly enjoyed the online class. John is very knowledgeable and always willing to help answer questions either online or in class. Thank you for a wonderful experience I feel well prepared." – Susanne Himstedt-Gilbert Instructional Technology Specialist Sierra Vista, AZ
"I enjoyed every minute of this training! John Sowash did a great job in presenting the course material and his lively personality encouraged engagement from everyone!" – Claudia Crisan, Elementary teacher ESL, Quebec, Canada
"I appreciate that you respected our time and that you know we have other things in our lives that take our time. Your videos were extremely helpful, and it was evident that you enjoy what you do." Linda Hines, Middle School Teacher, Lancaster, Ohio
How does the Google Certification Academy (GCA) work?
Each live session is hosted using Google Meet (of course!).
During the live sessions, John Sowash will guide you through a series of interactive activities and demonstrations to help you learn the skills necessary to pass the L1 and L2 educator exams.
Attendance at the live sessions is encouraged, but not required. Sessions are recorded and available for on-demand viewing.
Following each live session, you will receive additional exam questions to practice your skills and a short homework assignment.
The GCA goes beyond "test prep." Become a more creative,
innovative educator as you learn practical tips,
tricks and systems for…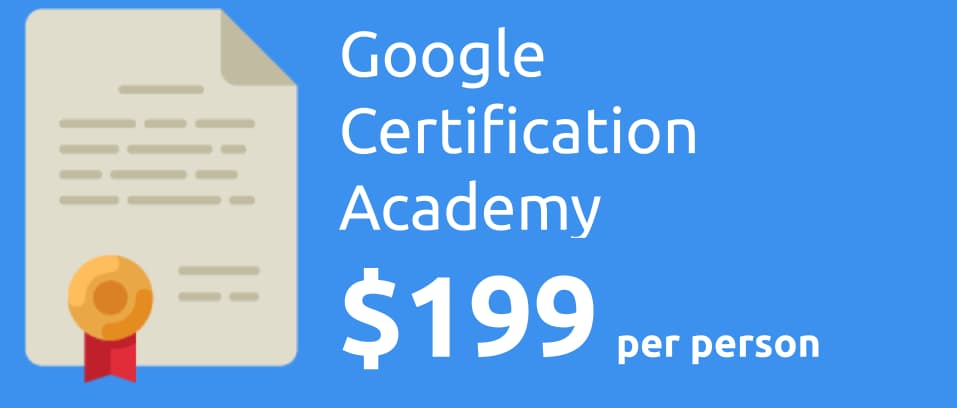 11 continuing education credits
Pass your L1 and L2 certification!
Get awesome classroom resources!
"I learned advanced features for Sheets and Google Classroom. I feel more ready to take the test now than when I was studying on my own. I would recommend the training to others."

Sonya Jackson, Special Education Teacher
"I know that my Gmail will be way more organized now that I know how to filter out and organize certain emails."



Stacy Johnson, Online Learning Mentor
"I love that I can go back to the material as often as I need to. I have already set up a Google Site with state testing information for teachers. My Google Sheet knowledge is priceless."

Nicole LaSota, Assistant Principal
Get the materials and support you need
to supercharge your instruction and pass the exam
11 hours of hands-on instruction
Optional practice assignments to build your skills
Up to 11 continuing education credits (requirements vary by state)
Certificate of completion documenting your learning
A detailed roadmap to finishing your Google certification
Exclusive study guides and sample questions
Access to a special Google Classroom resource course
Exclusive lesson templates you can take back to your classroom
Certification guarantee: everyone will successfully complete their Level 1 certification
Optional office-hours where you can ask your specific questions
Educators Often Ask Us…
"Can't I just prepare for the test on my own?"
Google offers four different certifications for educators. Each one features rigorous verification of your ability to use Google tools and services effectively. They are NOT easy. Don't spend days and weeks studying, preparing, and figuring out how and where to register for your certification exam. Google's free training course is 15-20 hours long, which mostly contains links to their text-based support articles. The GCA is a set of curated resources and engaging activities to help you learn best practice for teaching with Google tools and prepare for the L1 and L2 exams in a time-efficient way.
"Do I get continuing education credit
for completing the GCA?"
You'll receive a certificate of completion for completing the GCA. In most states, this is sufficient to document the 11 contact hours. If you need further documentation, let us know. We're happy to help!
"Can't I find this information online?"
Yes, you can find most of this information online. You'll have to sort through thousands of free resources available, find the best stuff, and make sure you have all of the most important topics covered. John offers you the chance to save time and know you're getting exactly what you need to know. The Google Certification Academy gives you a chance to join a community of educators also pursuing their Google Certified Educator credentials, as well as tips on taking the exams, practice exam materials, resources that aren't readily available on the web, and help directly from John. John has already helped 2,000+ educators prepare for the exam.
"If I already know how to use GSuite why
should I get the certification?"
Get tangible proof of the quality of instruction you provide your students and the knowledge that you have. The Google Certification Academy specifically prepares you to pass the L1 and L2 test. John also goes beyond the certification exam, sharing examples you can use in your classroom and stories from his own use of these tools.
Are you a school administrator? Schedule this event for your school or district
We guarantee our course will help you pass
the L1 or L2 exams. Check out the curriculum below
Better teaching and more
opportunity starts with
an investment in you.