The Google certification program will challenge your staff to become better teachers.
Google is a big deal in K-12 schools.
Over 80 million Google-powered Chromebooks are currently being used in classrooms around the world and more than 110 million teachers and students using Google Workspace for Education.
As your reliance on Google products and hardware increases you will need teachers who can utilize and support these tools in the classroom.
Building internal capacity for training and support is a fiscally responsible and effective way of ensuring that your technology resources are being used to their full potential.
Encouraging your staff members to become Google Certified is a great way to build internal capacity.
The Google Certification program was designed to help teachers use technology effectively in the classroom.
Becoming Google Certified made me a better teacher.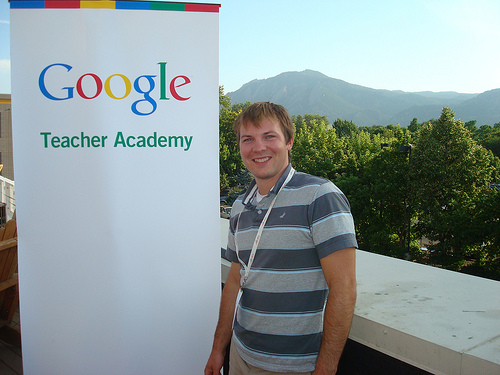 I earned my first Google Certification when I attended the Google Teacher Academy in 2009.
This experience made me a better teacher.
It made me aware of new ways to use technology in my classroom and connected me with other educators who inspired and challenged me.
Should you push your teachers to become certified? 
Here's the truth, earning a Google certification will force your staff to grow professionally.
They will learn new ways to incorporate technology into the classroom and further harness the power of the technology your district has invested in bringing to the classroom.
The Google certification program will help you identify instructional leaders and your most innovative staff members.
While this might sound great, not all of your teachers will be a good fit for the program.
Understanding the certifications
Google offers three educator certifications. You can use these three certifications to create a professional development program in your district.
Each Google certification focuses on practical applications for products like Gmail, Drive, and YouTube in real classroom settings. Teachers will explore classroom applications they can use immediately.
Here's a quick overview of each certification:
Google Educator, Level 1 – ideal for the "average" classroom teacher. The level 1 certification is a reasonable goal for all staff members.
Google Educator, Level 2 – the level 2 certification will help you identify your advanced technology users and potential instructional leaders. A good goal would be to have 2-3 level 2 certified teachers in each of your buildings.
Google Certified Trainer – The certified trainer program should be required for all instructional technologists and media specialist. Staff members interested in changing roles to a support position should also be encouraged to become a certified trainer.
Great teachers are lifelong learners.
But sometimes, they need an extra push to grow professionally.
Challenging them to work through the Google Certification program might be the push they need!
Should principals require certification?
I have worked with schools that have required all teachers to get certified.
It did not go well.
While I believe in the Google certification program, I don't think that it is a good fit for everyone.
The certification requirements are rigorous. Without some level of intrinsic motivation, teachers will have a difficult time completing the required steps to become certified.
Teachers who are struggling to use technology in the classroom may be overwhelmed or resistant if they are required to become certified.
Rather than mandating that all teachers get certified, I recommend that you make getting Google certified a target goal as part of a broader professional development program that should support teachers at all levels of technology proficiency.
The goal is growth, not certification.
I estimate that 60% of teachers are ready to pass the Google Certification exam.
The remaining 40% will need training, support, and encouragement as they build confidence using Google Workspace for Education.
Free resources to help your staff
One of my primary focuses is helping teachers become Google Certified.
I have developed a comprehensive set of resources for your teachers. Here are three of my most popular resources:
My free certification guide – This comprehensive PDF reviews each certification and includes helpful checklists, sample questions, and study suggestions.
Certification updates for 2022 – this podcast episode reviews some important changes to the L1 and L2 certification exams.
Google Certification FAQ – this post outlines common questions about Google's certification programs.
I have one more option for districts that want to make Google certifications a focus of their professional development program.
Bring the Google Certification Academy to your school
The Google Certification Academy (GCA) is a comprehensive experience that will prepare your teachers to pass the L1 and L2 certification exams.
The GCA can be offered as a virtual or in-person event.
Visit the hosting page to learn more about bringing the Google Certification Academy to your district!
If you have questions about building a professional development program for your teachers, feel free to get in touch. I'd love to help.