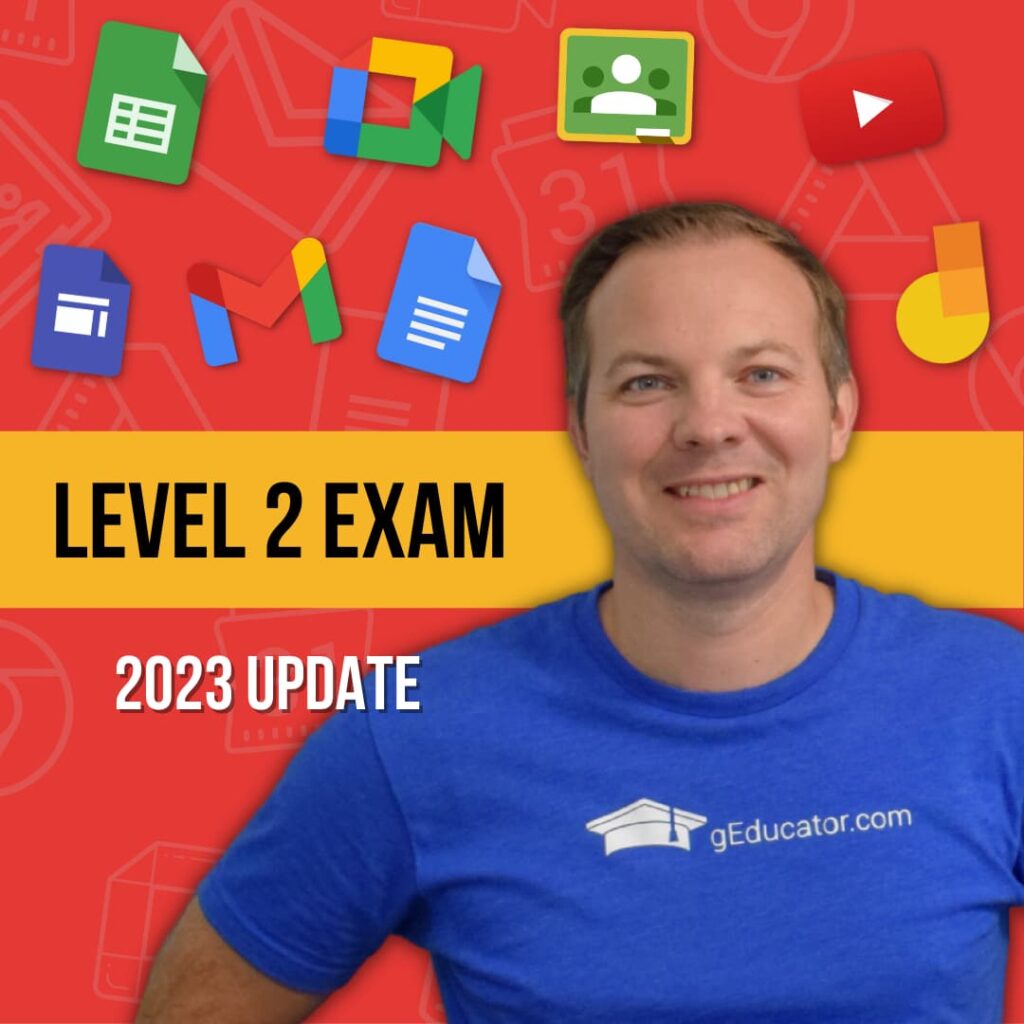 Passing the level 2 Google Educator is a significant challenge.
I created this short blog post to give you some insights into the level 2 exam for 2023. Don't rely on out-of-date information! This blog post is based on my personal experience taking the level 2 exam in January 2023.
I take the level 2 exam at least once per year as I prepare to facilitate the Google Certification Academy.
If you are planning on taking your level 2 test in 2023, this summary will help you pass the first time!
Exam Format
The format of the Level 2 exam hasn't changed for 2023:
35 "multiple choice" questions (read more below!)
3 hour time limit (typically takes about 90 minutes)
Exam fee: $25 (register here)
Minimum passing score: 80%
The exam is open book / note, but there is a time limit, so you need to work efficiently. You can take the exam on a Mac, PC, or Chromebook that has the Chrome browser installed.
If you don't pass the first time, you can register and take the exam again after 3 days.
Tip: download my free L2 study guide for a comprehensive list of the products included on the exam.
Level 2 question format
Describing the level 2 exam as "multiple choice" is a little misleading. In addition to traditional multiple choice questions you will also receive matching and "select all that apply" style questions.
This year I also noticed a new question style that will ask you to compare the features of two similar Google products, like Jamboard and Keep.
While you will only receive 35 questions, you are actually making significantly more selections (82 by my count) due to the structure of the questions.
Tip: I recommend that you take the level 1 exam BEFORE you attempt level 2. You can read my summary of the 2023 level 1 exam here.
What's on the Level 2 exam?
The level 2 exam will test your knowledge of core the core Google Workspace products that are assessed on the level 1 exam PLUS additional tools including Jamboard, Keep, Trends, and Scholar.
For a complete list of tools and skills assessed on the L2 test download a copy of my free study guide.
The level 2 test is significantly more challenging than the level 1 exam. It is very important that you are familiar with the ADVANCED features of Gmail, Drive, and Classroom as well as some lesser known tools such as My Maps, Arts & Culture, and Google Scholar.
Google has a large bank of questions, so every exam is unique. I've provided a general summary of my experience below, but your exam will feature a unique selection of questions.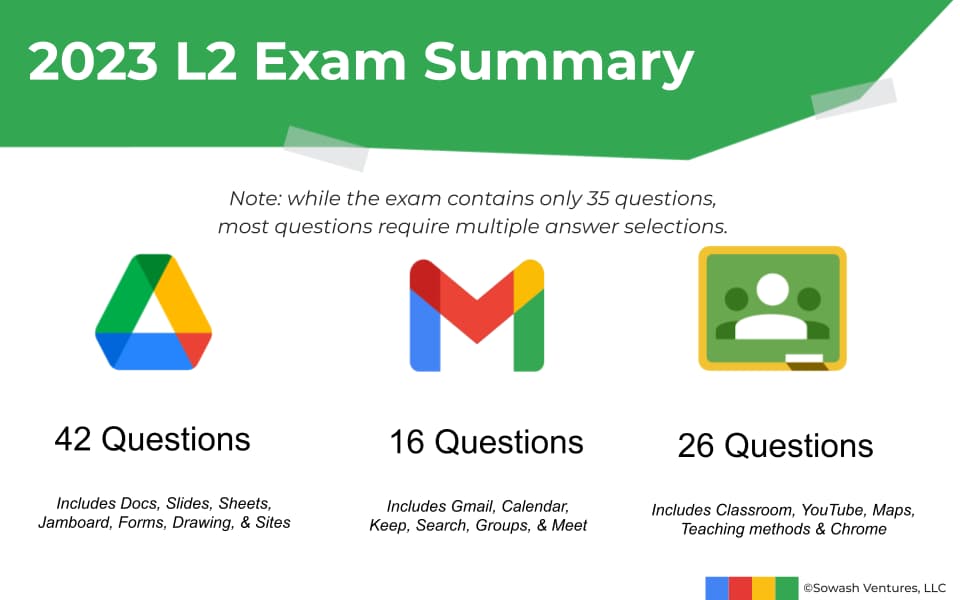 I noticed a some updates on the 2023 exam that are worth mentioning:
The links above will give you more details on these updates to help you prepare for your level 2 exam.
How to prepare for the level 2 test in 2023
While many teachers take the L1 exam, only a few are brave enough to complete the level 2 test. Practice and preparation are important in order to pass this challenging assessment.
There are several good resources that you can use to prepare:
Free ADVANCED Google course – this self-paced course offered by Google covers everything on the L2 exam. Unfortunately, it's pretty boring. If you can stay awake, it will definitely help prepare you for the test.
Level 2 study guide – I put together a free study guide that lists all of the skills you need to master to pass the level 2 exam in 2023.
Google Certification Academy – If you feel that preparing with a group would be helpful, join me for an upcoming GCA! During this LIVE virtual academy we cover everything you need to know to pass the L2 exam.
Additional links & resources:
Here are some additional resources that you might find helpful. I would strongly recommend that you read through my FAQ page which answers a lot of common questions about the exam rules, retake policy, and where to go if you have technical issues with your exam.
Share your experience with the L2 exam!
Did you take the L2 test? I would love to hear about your experience. Drop a comment below and help other teachers who are ready to earn their Google Certification!